Jimmy's "Greeting Cards"

~ Thank You My Friend ~




When the storms enter my life,

You're there to help me through.

Your loving words are my shelter

I'm forever indebted, thank you!


©JB


Thank you for the peace you give!




Ecclesiastes 4: 9~10

Two are better than one; because they
they have a good reward for their labour.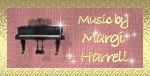 © Silver and Gold and Thee ~ All Rights Reserved ...Melva
Made with love

copyright ©Webmaster by Jimmy