Thank You Friend For

The Guestbook message you wrote.
I've yet to read a sweeter note!
Your gracious words mean so much,
And my heart they did touch!

Your sweet words are so neat.
They do make my day complete!
Thank you Jesus for this friend,
That you did so sweetly send!

siggy

Thank You for the *Encouragement!*

1 Corinthians 13:8
Love never fails.
Music:
Angels Watching Over Me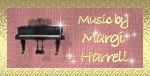 Made with love

copyright ©Webmaster by Jimmy